Tiled Map Editor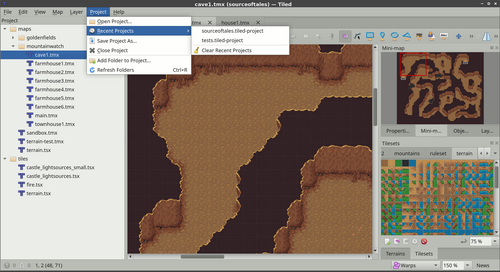 With the Tiled 1.3 release behind us, work continues on the next new feature release! As usual the new features will be released incrementally in the development snapshots.
This new snapshot adds initial support for projects. A project currently consists of a list of folders, which are scanned for files with known file extensions and displayed in a tree view. This makes it possible to define where your maps and tilesets are located so that they can be more easily found within Tiled. The Project view replaced the existing Maps view.
Another noteworthy improvement is that the tooltips for all action buttons now display the shortcut for that action. A few fixes have been made as well, most of which will be included in an upcoming Tiled 1.3.2 release of course.
Changelog
Added initial support for projects (#1665)
Added shortcut to tooltips for all registered actions
Fixed the status bar to be always at the bottom of the window
Fixed some tile stamp and object selection related shortcuts not being configurable (#2684)
Issues view: Can now be hidden by clicking the status bar counters
Layers view: Fixed insertion position when using drag-n-drop
macOS: Fixed black toolbar when enabling OpenGL rendering (#1839)
Removed the Maps view (obsoleted by Project view)
What's Next
In the next snapshot, I'd like to add support for workspaces, which are saved alongside the project files and store things like the files you had open for that project. That should make it quick and painless to switch between different projects. The project itself will also be extended, for things like defining a project-specific extensions folder, object types and custom commands.
Support Tiled Development
To keep improving Tiled, I depend on your support! If you're looking forward to the next new feature release, please consider supporting me on GitHub Sponsors or Patreon. Thank you!
Files
Tiled for Windows 64-bit (snapshot)
24 MB
Version 2019.12.04
Dec 04, 2019
Tiled for Windows XP (snapshot)
19 MB
Version 2019.12.04
Dec 04, 2019
Tiled for macOS (snapshot)
15 MB
Version 2019.12.04
Dec 04, 2019
Tiled for Linux (snapshot)
35 MB
Version 2019.12.04
Dec 04, 2019