Tiled Map Editor
I called this development snapshot "Tiled 1.1 Beta" because we're getting close to being done with features for the next release. I've mainly been fixing bugs since the previous snapshot.
The most exciting new feature was added by Mohamed, which adds a menu action to replace existing object instances with a template. This should really help when starting to use templates with existing content.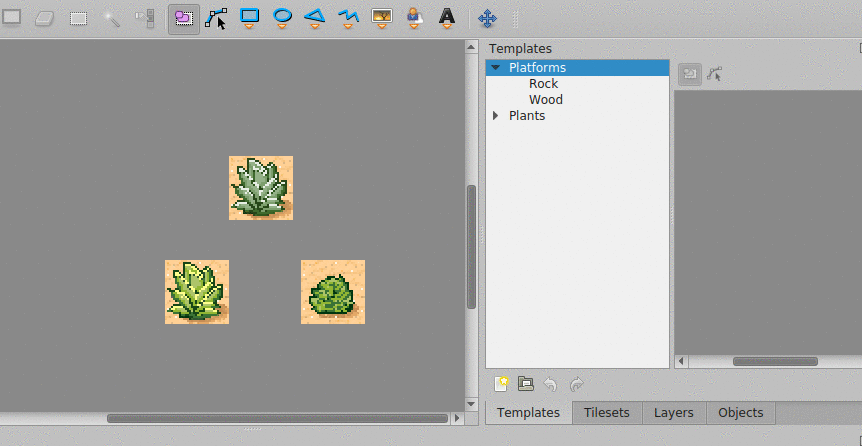 Also noteworthy is that people exporting to GameMaker: Studio 1.4 can now set the "Creation Code" for the map and object instances by using a custom "code" property.
Mohamed Thabet
Enable replacing an object with a template (#1793)
Thorbjørn Lindeijer
Added file-related context menu actions to Templates and Tilesets views
Added island RPG example map
Fixed crash when clicking a non-template file in the Templates view (#1823)
Fixed visibility toggle for object layers in Objects view
Fixed the Wang tools to take into account tile probability (#1830)
Fixed Wang Brush behavior when painting in negative coordinate space
Fixed color dialog for picking the Wang color to initialize with current color
Fixed updating of strings in the Properties view when changing language
GmxPlugin: Added support for setting the creation code
Files
Tiled for Windows (32-bit), snapshot
22 MB
Version 2017.12.07
Dec 07, 2017
Tiled for Windows 64-bit (snapshot)
24 MB
Version 2017.12.07
Dec 07, 2017
Tiled for Windows XP (snapshot)
19 MB
Version 2017.12.07
Dec 07, 2017
Tiled for macOS (snapshot)
15 MB
Version 2017.12.07
Dec 07, 2017
Tiled for Linux (snapshot)
35 MB
Version 2017.12.07
Dec 07, 2017