Tiled Map Editor
Extend and Join Polylines With Ease
---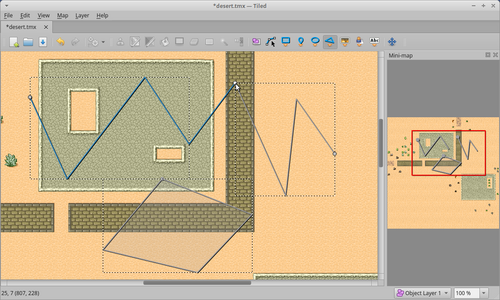 The biggest new feature since the last snapshot is the ability to connect one polyline to another while creating or extending it. Also there is no longer a separate tool for creating polygons, since you can now create them by closing the polyline explicitly. Finally, with the Create Polygon tool selected, you can extend a polyline by clicking on a handle on either end of it.

Note that the handles to extend or to connect to a polyline only show up for selected objects, so you need to select them first before switching to the Create Polygon tool. This is done for performance reasons and to avoid too much handle clutter, but if this is too inconvenient we can consider other solutions. Ctrl+A can be used to select all objects on the current layer.
Also several fixes have been made, and two pull requests were merged.
Changelog
Patrick Griffis
Modernize appstream file (#1875)
Thorbjørn Lindeijer
Extended the functionality of the Create Polygon Tool
Objects view: Only center view on object on press or activation
Changed the default mouse wheel zoom setting
Fixed object order to be preserved when copy/pasting (#1896)
Fixed overriding of tile of flipped template instances, when tileset is part of map (#1895

)

Fixed tileset getting loaded twice when used by the map and a template
Updated Windows and Linux builds to Qt 5.10
Kristian Pilegaard Jensen
Added option to lock/unlock all other layers (#1883)
Files
Tiled for Windows (32-bit), snapshot
22 MB
Version 2018.03.04
Mar 04, 2018
Tiled for Windows 64-bit (snapshot)
24 MB
Version 2018.03.04
Mar 04, 2018
Tiled for Windows XP (snapshot)
19 MB
Version 2018.03.04
Mar 04, 2018
Tiled for macOS (snapshot)
15 MB
Version 2018.03.04
Mar 04, 2018
Tiled for Linux (snapshot)
35 MB
Version 2018.03.04
Mar 04, 2018