Tiled Map Editor
Stardew Valley Modding Update and Other Stuff
---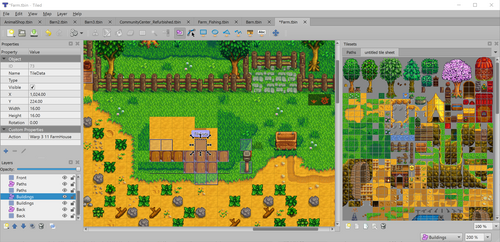 I think the most interesting addition in this updated snapshot is that the tBIN format used by the tIDE tile map editor is now supported by Tiled (after enabling the plugin), thanks to the work by Chase. Support for this format could be interesting for anybody using xTile, a tile rendering engine for XNA-based games, but it is probably mostly useful for modders of Stardew Valley, since the game uses this map format. See this wiki page for more information about modding Stardew Valley.
In addition, Ketan continued extending the Tool Options tool bar to cover the selection tools, so that the various selection modes are now also available by clicking in addition to their modifier keys. Ketan also made some preparations for supporting "infinite" tile layers.

In the meantime, huge changes are being made on development branches by Mohamed and Benjamin, adding support for object templates and Wang tiles respectively. Expect to hear more about that in the next month!
Ketan Gupta
Thorbjørn Lindeijer
Fixed tool tips on flipping and rotating stamp actions
tBIN plugin: Avoid potential crash on unknown object group
Travis CI: Fixed building of the AppImage
Chase Warrington
Files
Tiled for Windows 64-bit (snapshot)
24 MB
Version 2017.07.11
Jul 11, 2017
Tiled for Windows (32-bit), snapshot
22 MB
Version 2017.07.11
Jul 11, 2017
Tiled for Windows XP (snapshot)
19 MB
Version 2017.07.11
Jul 11, 2017
Tiled for Linux (snapshot)
35 MB
Version 2017.07.11
Jul 11, 2017