Tiled Map Editor
Configurable Keyboard Shortcuts
---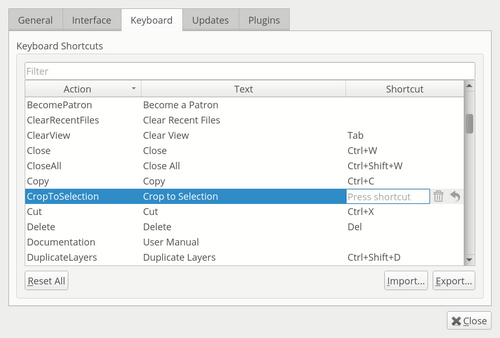 At long last, the keyboard shortcuts are configurable! This snapshot allows setting custom shortcuts on most menu actions available in Tiled, with a more complete list to become available in future snapshots.
Of course, you can also remove shortcuts or reset them back to their default. Custom scripted actions are covered as well, though for their shortcut to actually work they still have to be added to the menu. Finally, there's an import/export feature in case you want to share your keyboard setup between multiple workstations or with others!
What's still missing is the ability to configure shortcuts for actions that aren't in any menu. Some of those probably should be in a menu, but maybe not all so I'll need to think of some solution. In addition, conflicting shortcuts lead to neither shortcut working, so I'll need to implement some highlighting of conflicts.
Last but not least, the Stardew Valley modding community may be happy to see two issues have been fixed in the tBIN plugin!
Changelog
Files
Tiled for Windows 64-bit (snapshot)
24 MB
Version 2019.04.25
Apr 25, 2019
Tiled for Windows (32-bit), snapshot
22 MB
Version 2019.04.25
Apr 25, 2019
Tiled for Windows XP (snapshot)
19 MB
Version 2019.04.25
Apr 25, 2019
Tiled for macOS (snapshot)
15 MB
Version 2019.04.25
Apr 25, 2019
Tiled for Linux (snapshot)
35 MB
Version 2019.04.25
Apr 25, 2019