Tiled Map Editor
Object Placement Preview on Hover
---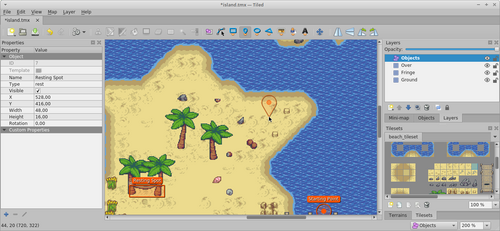 The biggest change since the last snapshot is that all object creation tools now show a preview of the object that's going to be placed already before clicking. This is very useful for the tile and template placement tools, but also for the other object creation tools since it makes it clear which tool is selected.
Another useful improvement is that you can now press Escape to abort a move, resize or rotate operation and revert the objects back into the state they started in. This also works for the Edit Polygon Tool.
A number of fixes have been made as well, which makes it about time to roll out a Tiled 1.1.6 release for the stable version.
Changelog
Matt Drollette
Lua plugin: Include tileset column count in export (#1969)
Thorbjørn Lindeijer
Create Object Tools: Show preview already on hover (#537)
Object Selection Tool: Escape aborts current action
Edit Polygon Tool: Escape aborts current action
Add new polyline object created by Delete Segment action to selection
Build development snapshots for macOS against Qt 5.5 (but it failed to fix floating window resizing, #1962)
Fixed rendering of arrows on scroll bar buttons
Fixed potential crash on Undo in Tile Collision Editor (#1965)
Fixed grid always showing on startup (regression in last snapshot)
Fixed resize handle locations for multiple zero-sized objects
Fixed handling of arrow keys on focused layer combo box (#1973)
Files
Tiled for Windows (32-bit), snapshot
22 MB
Version 2018.07.13
Jul 13, 2018
Tiled for Windows 64-bit (snapshot)
24 MB
Version 2018.07.13
Jul 13, 2018
Tiled for Windows XP (snapshot)
19 MB
Version 2018.07.13
Jul 13, 2018
Tiled for macOS (snapshot)
15 MB
Version 2018.07.13
Jul 13, 2018
Tiled for Linux (snapshot)
35 MB
Version 2018.07.13
Jul 13, 2018